Are FAANGs losing their bite? Rethink your equities allocation
KEVIN BALES, CFA 03-Jun-2019

Are government regulators about to take a bite out of the popular FAANG* stocks? Multiple reports surfaced earlier this week of regulators looking to expand their oversight and antitrust probes of several tech giants, which drove large one-day losses in the FAANG stocks. Specifically, the Department of Justice will focus on Google and Apple, and the Federal Trade Commission will examine how Facebook and Amazon's business practices could be negatively impacting competition.

The news on June 3, 2019, rattled the FAANG stocks, as Facebook fell by 7.51%, Google declined 6.12%, Amazon was down 4.64% and Apple's loss was more muted at "just" 1.01%.

At first blush, this might seem to be a trivial one-day affair. But upon closer scrutiny, this is meaningful for almost all investors, especially those who continue to put their faith in market-capitalization indexed products for their core equities allocations. We have been cautioning investors that the performance of the S&P 500® Index has been concentrated in its top 10 stocks, as illustrated in the chart below.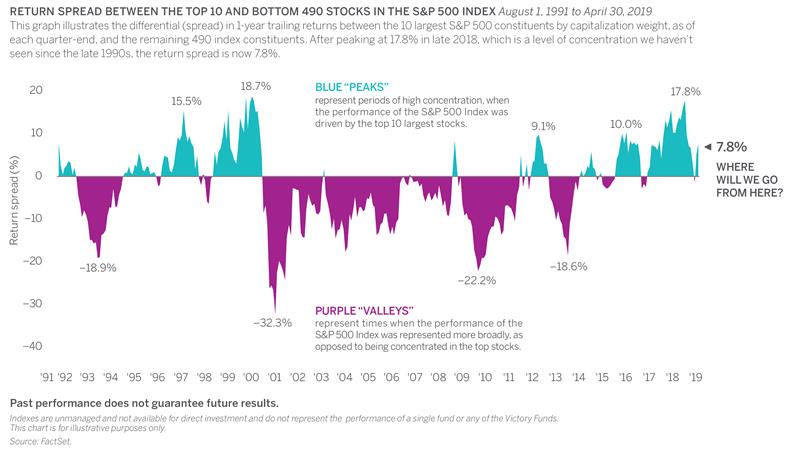 We continue shouting that the day may soon come when market cap-weighting** will no longer seem like such a great idea. The FAANG selloff on June 3, 2019, may have provided a glimpse into that future. And with the upcoming election, consider how many more times we will hear the drumbeat for heightened regulation or even the potential break-up of the largest tech stocks over the next 18 months. As a result, cap-weighted indexes (like the S&P 500® Index) that are heavily influenced by their largest constituents may be setting up for a period of underperformance.

We believe investors should consider more diversified approaches for their core equities allocation, including volatility weighting, whereby each constituent carries an equal risk contribution to the overall portfolio. Such strategies may offer better diversification and avoid the concentration hazards inherent to market cap-weighting.