Bouncing back?
KEVIN BALES, CFA 22-Dec-2020

There's no denying the damage that this pandemic and the subsequent shutdowns have done to the U.S. (and global) economy. The ramifications have been far-reaching, and the disparity between the corporate winners and losers has fostered wide performance dispersions, which in turn has investors contemplating their next moves. Some investors are questioning their allocation to high dividend strategies. But before taking rash action, let's take a breath.
The winners have tended to be technology companies that excel in the new normal, such as those facilitating our new remote work and learning environment. The losers—for the moment—have been many, and are exemplified by travel and leisure industries. But from a stylistic lens, the one group of stocks that have not escaped the wrath of the pandemic has been high-yielding dividend-paying stocks.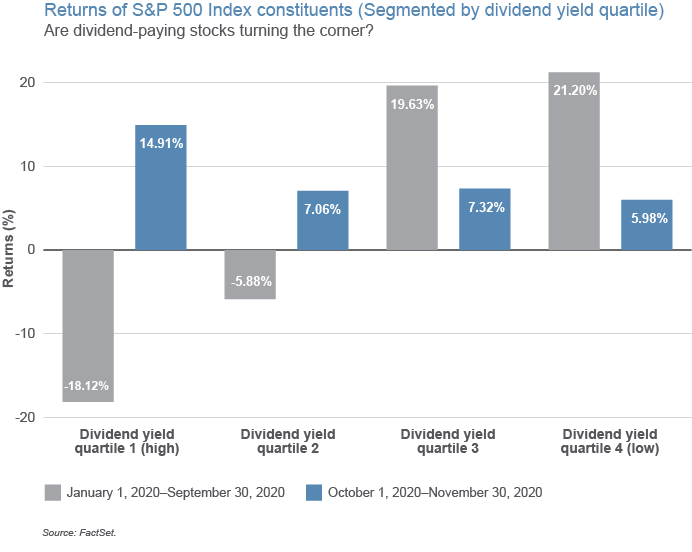 The chart above illustrates the point. The S&P 500® Index was up approximately 5.6 % through the first three quarters of the year. But after dividing the index constituents into four groups based on their dividend yields, it's clear that the top 25% of stocks with the highest dividend yields have been the worst performers in 2020.

This should not come as a surprise if you have been following financial news during the lockdown. The economic impact of the pandemic has prompted several high-profile, blue-chip companies to slash or suspended their dividends. And despite the broader market rebound since the lows in March and April, many high dividend yield-focused strategies continued to face severe headwinds throughout the first three quarters 2020. 
But things have been looking up more recently. Moreover, investors should not overlook the fact that the dividend yield on the S&P 500 continues to exceed the yield on the benchmark 10-year U.S. Treasury. This reality offers investors with a viable, albeit riskier, alternative for generating investment income, and it's just one reason why we continue to believe in the value of high dividend-yielders. Dividend yield-oriented strategies should continue to have a role in a diversified investment portfolio long after this pandemic fades.

With the encouraging news of multiple vaccines with high levels of efficacy, the pandemic may begin to fade away. This could benefit high-yielding dividend-paying stocks, and as the economy reopens and economic activity returns to a new normal, the pressure on companies generating cash flow for dividend payments may be alleviated. Our accompanying chart illustrates this point. Since September high-yielding dividend-paying stocks have outperformed, and this trend may continue as vaccines become more widely available.