"Rising stars" temper BBB growth fears
TRAE WILLOUGHBY, CFA 21-Oct-2019

Bonds with a BBB rating now represent more than half of the U.S. investment-grade (IG) universe, and that has some market watchers worried. They envision mass downgrades, large losses in value and perhaps even a high-yield segment deluged by new supply raining down from above.
We believe this narrative may be overly alarmist, a key reason being that a good chunk of the BBB increase is companies moving up, not down.
In recent years, the dollar value of new BBB issuance from "rising stars" – promising companies promoted from the high-yield ranks – is close to $300 billion. This total is roughly equal to that of "fallen angels" – issuers whose hard times have led them to drop from IG status to high yield.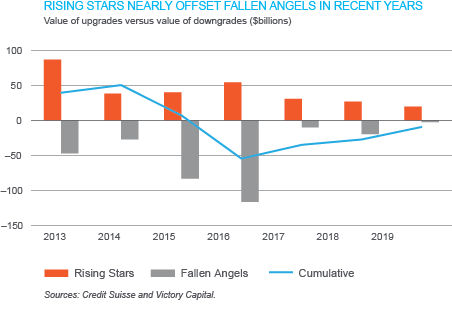 Market sector or industry is another factor affecting BBB risk. Some sectors stand to be more resilient in the event of an economic downturn.
The technology sector, for instance, has seen considerable BBB growth from upgraded companies with improving fundamentals due to greater market success or acquisitions. On the other hand, the food and beverage industry has seen downgrades to BBB as a result of companies making debt-funded takeovers at a time of diminishing brand strength.
In our view, the letters assigned by the bond-rating agencies only tell you so much about a company's credit outlook.
Our approach includes generating an independent rating on each bond we hold and we continuously monitor credit quality. We believe this process gives us a broader view of the potential risk/reward balance, and it enables us to be more responsive when that balance changes.